Plak theme has partnered with Loox, which is the best reviews app in Shopify apps arsenal to deliver its clients the most robust and most powerful reviews widgets to increase trust and conversion rate by consequence
Why Do You Need a Photo Review App?
Studies reveal that eCommerce clients are more likely to react positively to photo reviews generated by other users. for the simple reason that these photos are much more credible , taken by normal day-to-day persons, and they represent actual products bought from an online store
Loox reviews app
Loox is a photo review app. It's actually a Shopify app used by Shopify platform entrepreneurs.
It enables to collect reviews for Shopify online stores when customers have purchased items.
What is unique about Loox reviews and why it is the Best Shopify reviews app ?
A customer review can be posted along with a photo of the purchased item. A review with a real product photo gives authentic social proof to the concerned online store and incite other visitors to purchase your products.
Best Shopify reviews app features
Loox App has lot of great features. Let's take a look.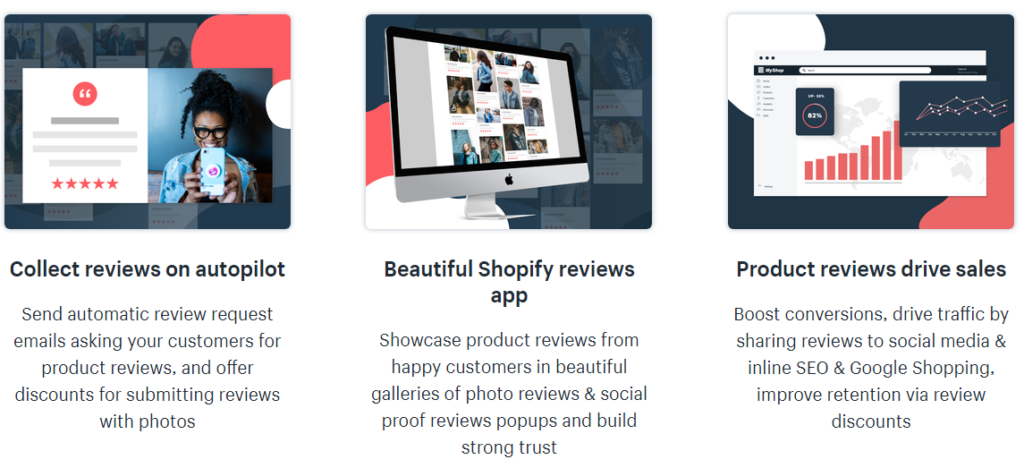 Collect reviews after every sale
Contact your customers via email or social media by requesting them to leave a review if they're happy with the products they have purchased, you can also offer a discount coupon for next purchase if they do leave you a positive feedback
Review gallery
You can feature your reviews gallery in product page/homepage or any other location in your website with just simple click, no coding required. This will give an authentic look to your website and encourage new visitors to buy from you.
Reviews importer
You can import reviews from other marketplaces like : ebay, amazon, aliExpress, Etsy, … and many other sources. Or you can upload theme by using a CSV file
Review moderation
You are free to manage and moderate the reviews. The app gives you the ability to choose which reviews to show and which ones to hide. If the review is non-relevant or offensive, you can simply go to the admin panel and choose not to show it.
Once a customer/client leaves a review, you can reply to this by thanking him/her for the positive feedback. 
Customizable look&feel
You can customize widgets look from Loox Shopify dashboard without any coding skills
Product Rating Widget and Pop-Up
Each product has a star rating and average rating, your customers can see then the other clients point of view about the products. You can customize the rating stars design from Loox Shopify dashboard and choose to show this rating widget on your product page or/and collection pages.
Other key features
One-click setup
Import product reviews (even with photos) from any source. 1-Click import AliExpress reviews (unlimited products)
Made to fit – Works with any theme, mobile-friendly & 100% responsive
Automatic email review requests & reminders – Sit back and relax as reviews flow in
Offer reviewers a discount – Incentivize adding a photo to their review
Fully branded emails – Your name, logo, subject, and text
Customization – Define review request email timing, review form questions, widget colors, font, size and position
Moderation – You decide which reviews get published
Reply to reviews – Add a public response to published reviews
Textual reviews – Submit a review without a photo, with the option to add one later
Inline SEO – Display product reviews & ratings on search results with Rich Snippets
Google Shopping – Display ratings, reviews and photos on Google Shopping
FB pixel – Custom and Lookalike audiences of happy customers
Social reviews sharing – Inspire your fans with reviews
Ratings widget – Show star ratings on collection pages and higher up on product pages
Happy customers page – Show off all your reviews in one place
The Loox Popup – Surface relevant product reviews while visitors are browsing
Reviews Sidebar – Easy access to all reviews with a floating button on the side of your screen
Homepage reviews carousel – Showcase your best reviews
GDPR Compliant
Free access for development stores
World-class customer support – Always happy to help
Loox app availability & intergation
The best Shopify reviews app is available is several languages such as : English, French (Avis), German (Bewertungen), Spanish (Reseñas), Portuguese (Avaliações), Italian (Recensioni), Russian (Отзывов), Turkish (Yorum), Dutch, Japanese (レビュー), Korean (구매후기), Simplified Chinese (评价), Traditional Chinese (評價), Finnish (Arvostelut), Swedish (Recensioner), Danish (Anmeldelser), Norwegian (Vurderinger)
When importing reviews from external suppliers or marketplaces such as Aliexpress, you will have the option to translate the language before making the reviews live.
Loox Integrates with :
Loox review app integrates easily with Plak Shopify theme as well as other famous Shopify apps :
Klaviyo,
Recart,
PushOwl,
Google Shopping,
Aftership,
Facebook tab & pixel
Loox Pricing
Loox is not free, but you can try the app for free for the first and get 20% discount in the second month by using THIS LINK. Below are Loox app subscription plans :
Even with the basic plan, you can still benefit from almost all the great feature that offers this reviews app
Loox: Is it worth it?
Certainly, the app is worth it. Moreover with all the features and benefits mentioned above, the app costs just 9.99$/month.
A positive review using Loox on your Shopify store can be featured on your Facebook page.
Word of mouth is still the king when it comes to sales growth. A happy customer can influence his family his friends and his co-workers.
Conclusion
We partnered with Loox app to give our clients a 20% discount with 30 days free trial to install Loox app, having the fastest and the best converting Shopify theme with the best Shopify reviews app will bump up your sales and maximize your profits
Simply install the app from THIS LINK and enjoy !