You landed onto this page, because you were probably looking for the fastest Shopify theme — You did well !
Today we'll explain you the important of the speed and show you the "Cheetah" of all premium Shopify themes.
Why does Shopify store speed matter ?
There are a many reasons why a fast loading Shopify website is important for your business. Below are the most important ones:
Improve user experience : a fast website, drives visitor's confidence. Smooth web page loading incites a visitor to stay longer in your Shopify store and surf in several page in a short time.
Increase conversion rate : we live in an era where a speed service is coveted. The more your Shopify store is fast, the more your conversion rate will increase, mainly for your product & cart pages.
Optimize SEO : Google, Bing, Yahoo and other search engines use page loading time as one of the most important ranking factor: as a result better loading times means better placement in search results. And therefore, free consistent organic traffic.
How to know its current website speed ?
One of the best speed tool is Gtmterix, it reveals why your site is slow and discover optimization opportunities.

How does it cost to improve its Shopify website speed ?
As a Shopify store owner, you have only 3 choices to improve your store speed:
Hire a developer
Install a speed optimization app
Purchase a "homemade" fast Shopify theme
Speed optimization developer cost
Speeding up a Shopify is a tedious task, it goes from simple heavy images compression to complicated technical coding speed issue fixing.
Hiring a professional developer in order to increase your website speed can cost you hundreds or even thousands of dollars.
It all depends on the number of pages to improve and on how your theme is coded.
Moreover, it could take you from few days to couple of weeks to finalize the optimization. And yet, in some cases, you could't reach a 90% speed score for various technical reasons.
What if i installed a speed optimization app ?
Image compression apps can be a good remedy to your speed issue, but installing a speed optimization app isn't a final solution, because third party apps are one of the reasons why you current Shopify store is slow in loading time — how would you fix an issue with another issue ? just doesn't make sense.

Speed optimization must be done by a HUMAN, a highly skilled Shopify expert, who will take his full time (from days to weeks) to ding deeply into your current theme code to fix the maximum issues possible.

As a Shopify entrepreneur, you will want to chose the best and the cheapest solution.
Which is purchasing the fastest Shopify theme and focus on other things like (marketing, advertisement, management, …)
The fastest Shopify theme
Released in 1 July 2019 by a Shopify speed expert in collaboration with successful Shopify entrepreneurs, Plak theme has seen the day after months of hard coding in order to provide the Shopify stores owners a 3 in one premium theme ( Fastest speed, SEO friendly & best converting template)
The speed score of Plak theme is close to perfect for its homepage, collections, products and its cart template (the 4 most important pages in ecommerce).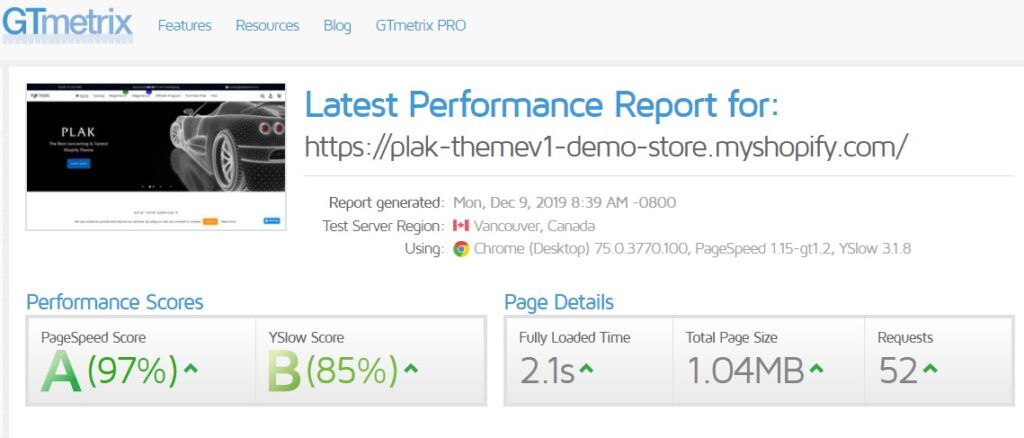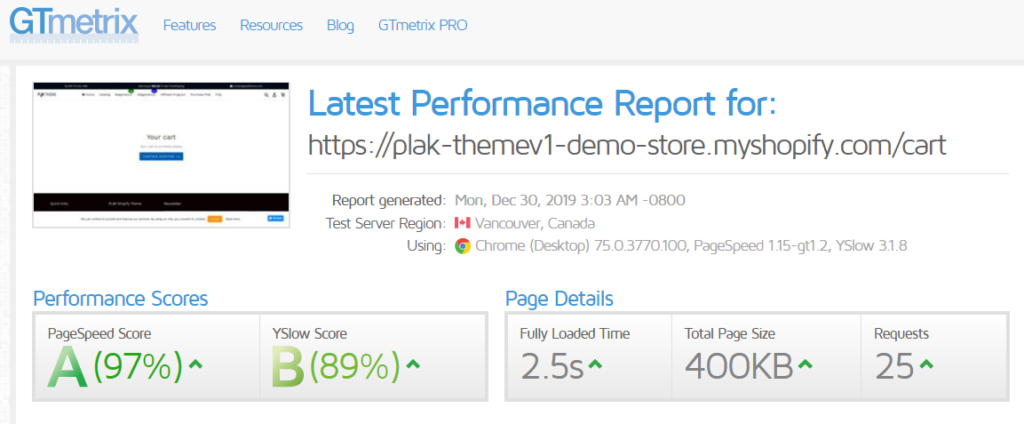 How did Plak theme developers made the fastest Shopify theme ?
Developing Plak theme has taken several months of hard coding, choosing the best converting features, making the most attractive design & layout in order to turn every visitor into a potential returning client.

Plak theme uses the most recent web page loading Technics in order to get the maximum speed possible. Lazy loading (also called on-demand loading).
How it works ?
Instead of loading the entire web page and rendering it to the user in one bulk loading.
The concept of lazy loading assists in loading only the required part or section and delays the remaining, until the user reaches it when scrolling down the site page.
Conversion rate impact
Conversion rate has a direct link with the theme speed, the more your site is fast, the more you'll have a high conversion rate.
Plak theme users have an average conversion rate of 5-6%, which is higher than the total Shopify users which stands below 1.5%.
Plak has the highest page speed not only for homepage but also for product page, collection page and cart page.
Check out the demo and run a test with Gtmetrix tool to see live results.

Having all your page optimized for speed, will guarantee you increasing your conversion rate and your organic traffic.

==> Read to how to rank your Shopify store in first page on Google
Financial impact
Improving its site speed could cost you hundreds or even thousands of dollars.
But purchasing a built-in speed premium Shopify theme at (295$ for one licence) will save you time and money and let you focus on marketing, product research, …
Moreover, when you buy Plak theme, you will never worry about bug fixing, or theme updates extra fees. Getting Plak licence enables you to benefit from lifetime Free support & updates. That is to say — Purchase just once, and get it Free forever.
Conclusion
Site speed is extremely important. It increases your conversion rate, your sales and by consequence your profits.
Plak is the fastest, the most robust and the best converting premium Shopify theme ever.
Use code 20OFF at checkout to get 20% discount of your purchase of plak theme