Are you looking for the best tip on How to Rank Shopify store on first page on google ? getting free organic traffic consistently?
Indeed you are ! Google and other search engines websites uses robots and sophisticated algorithms to rank websites, knowing some of SEO (search engines optimization) Technics, will help you getting at least on first page on Google or may be the number one in this page
Let's have a look at the two types of SEO: On-site SEO and Off-site SEO.
On-site SEO
On-site SEO is the practice of optimizing "locally" your website and its pages in order to get a higher ranking in search engines and earn qualified free organic traffic, let's enumerate the most important on-site SEO tricks to get on first page on google
1. Optimize Your Shopify Store Structure
Your website pages structure must be well organized, this helps search engines understand your website content and therefore getting a higher ranking on first page on google.
When visitors are able easily navigate in your website, they will surely spend more time on your website and view more than one page, this will undoubtedly increase the following on-site SEO factors
Number of visits/user
Session duration/user
Bounce rate (the percentage of visitors to a website who navigate away from the site after viewing only one page).
Here is a schema example of a simple and SEO-friendly website structure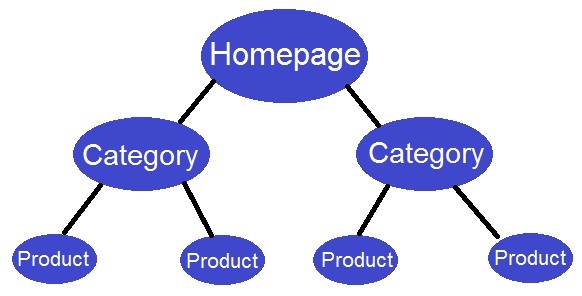 2. Optimize Your Shopify Store Speed
Google and other search engines has introduced the site speed as one of the most important factors into their their algorithms to rank websites in the first page. That is to say, the more your website is faster, the more you'll have chance to get Ranked on first page on google
Stats show that 46% of e-shoppers hate slow websites, mainly on mobile devices, and 76% of e-shoppers will leave the website from the first landing page if the website has a loading time of 5 seconds or more.
Improving its Shopify store requires a deep knowledge of coding in order to fix all the possible issues that make it slow, the solution ?
3. Use the right keywords
If you use the right keywords, people will most likely land on your website from a search engines. But misaddressed or inappropriate keywords can decrease your SEO score.
But how do you find the right keywords to rank on first page on Google and get free traffic to your shopify store?
The first to think about is by using an online keyword researches tool, but the mot prominent way is by using the Google autocomplete research bar to get the recent most searched keywords as showed in the screenshot below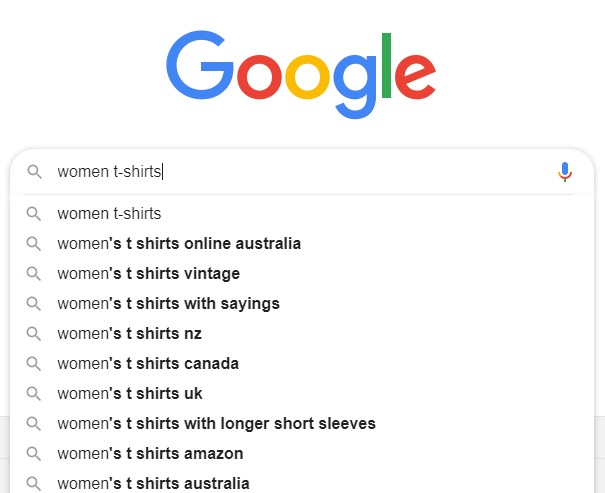 4. Use Outbound Links:
An outbound link is a link which will redirect users to an external website, like THIS ONE.
Outbound links show Google that the page is both valid and informative. You must in another hand make sure that the external links are relevant enough to your content and from authentic and high-quality sources.
Important : always use the external link to open in new tab, this way your visitor will sill have your website opened in a tab and may return to it.
5. Consistency
Have you ever came across an article or a product when searching for it on Google and this article/product was last updated in 2003 for example ? Surely no ! And you know why ? Because Google has also introduced the consistency factor as a ranking factor, indeed ! Google loves fresh and frequently updated content.

How to update your Shopify store when you have thousands and thousands of products ?

Easy ! you can use a bulk product edit app such as THIS ONE to automate your updates, this way all your products will be fresh and you will guarantee to rank your Shopify store on first page on Google.
6. Internal Linking
Another Technic to rank your Shopify store on first page on Google is by building internal linking, this will not just reduce the bounce rate but also it will increase the user experiences by providing more details within your website pages.
7. Images alt text
Most of Shopify store owners focus on products, pricing, … and forget about adding alt text (also called alt tag) to their images.
Google recognize an image by its alt text, by adding this alt text, you will have chance to have your products featured in images tab in Google search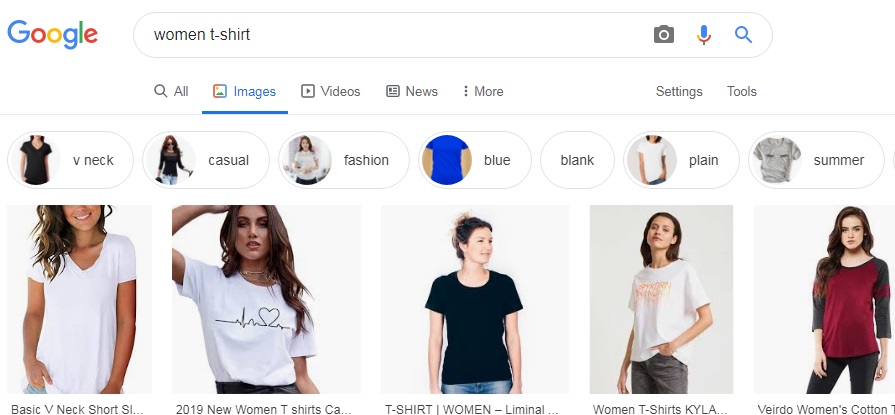 8. Add title attribute to your links
When hovering over a link, the link title attribute gives additional information about the page being linked to.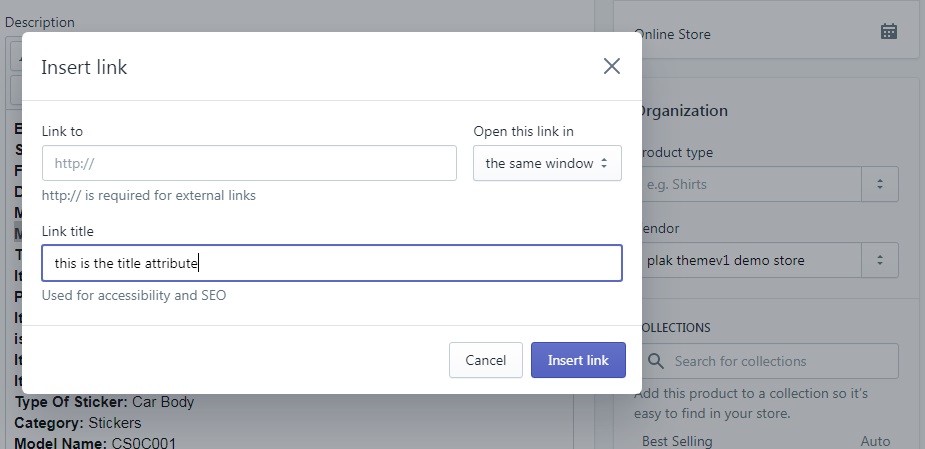 Most of Shopify themes except Plak are not SEO friendly, and they don't have link title attributes built-in, so if you have other theme than Plak, don't forget to add title attributes to your links.
9 – Use appropriate heading tags in a Blog Post (h1 through h6)
The most important tag. is h1 Every page should have a single h1 tag reserved for the title of the article. H2 through h6 are then used for decreasingly significant titles. We do not break the chain or skip levels of the hierarchy as we write to maintain on-page SEO. For example, if your page title is an h1 tag and you immediately follow that with an h4 tag, the hierarchy is broken. It makes the heading structure harder for the search engine to crawl and categorize.
Fortunately is you are using Plak Shopify Theme, you don't have to bother about this, as this Theme by default SEO friendly. Once you give your blog post a title, it will be assigned with a h1 tag, then you can write your article starting from h2, then h3, ..
Below is an example (the current article) of how your blog post will be rendered when someone looks for something on Google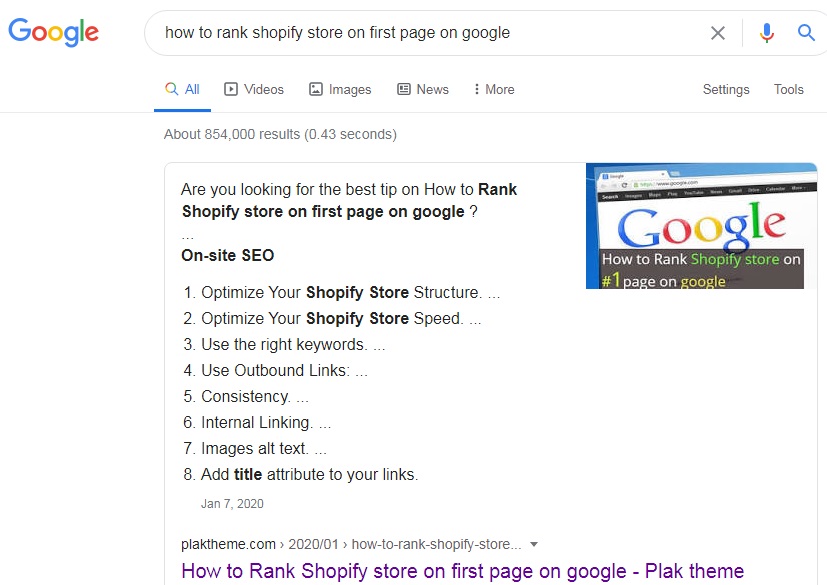 Off-site SEO
Off-site SEO refers to the SEO Technics and improvements done externally
1. Broken links fixing
You must identify broken (died) links on websites and either remove them or replace them with another functional link
If you feel that you have lot of broken links in your current website and you have lot of suspected pages, the best free tool to use for broken link checking is Check My Links. Use it to fix your broken links to Rank Shopify store on first page on google
2. Guest posting
By writing guest posts on external blog websites will help you build high quality backlinks and trigger more free traffic to your website.
This will also increase your DA/PA (Domain authority/ Page authority)
3. Social media sharing
Sharing your website links and products to social media, such as Facebook, twitter, Instagram, … or pining to Pinterest is a great way to get high quality backlinks and increase your business trust.
And if you are more into videos, you can create a Youtube chanel and add a link to your landing page in the video description.
4. Commenting and posting on forums
You can also have high quality backlinks from commenting on other's blogs/forums/websites or you can also also answer questions or post your own questions by including a link to your website/products
Conclusion
Improving its SEO requires hard daily working in order to rank on first page on Google.
Getting free organic traffic will take some time (few weeks to few months) to see a significant improvement, if you have the budget and feel a little bit lazy to maintain a sustainable SEO Technic improvements, hiring a SEO professional is then a must