Whether you are planning to start a US corporation or LLC for your ecommerce business, you always need to follow specific rules and regulations. If you are assuming that forming a company means only to get certain documents completed, you need to change your existing perception. Apart from going through formal document creation and verification process, you also need to learn how to setup incorporation, LLC and other kinds of business services. But how it can be done? For this, you need to look at nowhere else but MyCompanyWorks.
What is MyCompanyWorks ?
MyCompanyWorks came into existence in 2001. The main motto behind setting up this company is to help contemporary entrepreneurs or service providers to start a business legally. This company helps entrepreneurs in creating legal documents for business. Professionals at this company help novice entrepreneurs to learn how to organize a business. Whether you are going to start a service-based or product-based business, you always need to seek help from a business setup helping company. MyCompanyWorks assists entrepreneurs about how to start and run a business swifter, easier and more affordable than ever before.
Why Should You Avail Services of MyCompanyWorks ?
When it comes to starting a US business legally (mainly for non-US residents who want to accept credit/debit cards on their ecommerce stores), you can easily find out lots of companies online and offline. These companies can help you registering or completing specific documents for your business. However, it is true that these companies can help you completing legal documents or requirements formalities, but when it comes to organizing a business, they don't have clue about the same.
Obviously, being a novice business owner, you would surely like to hire a company that can help you starting a business from scratch. You won't like to get confused when it comes to starting and running a business whether online or offline. Thus, you need to grab help from a company that can help you starting, organizing and running your business effortlessly.
MyCompanyWorks Offers Affordable Incorporation and LLC Formation Services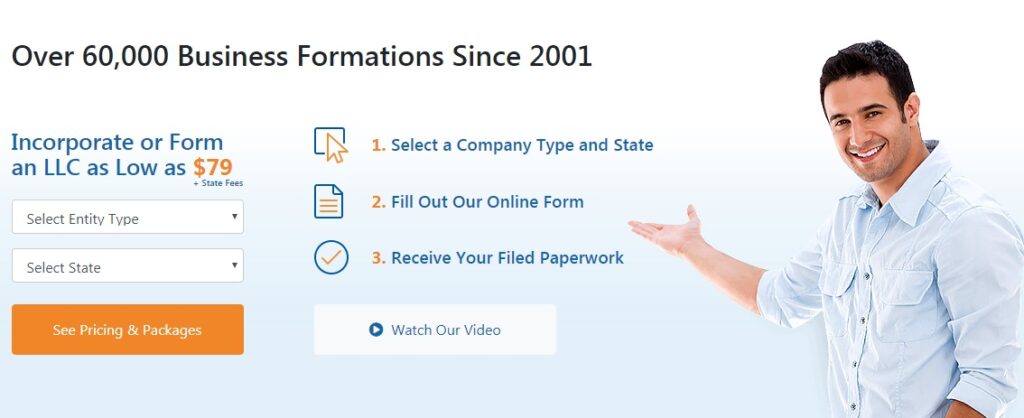 If you are looking for professional assistance in terms of setting an incorporation or LLC business, you can easily find out plenty of service providers. However, you can certainly find out lots of service providers, but most of these companies only file incorporation and limited liability company papers. They don't guide you about how to setup a business or company. They don't provide you information about how to setup business structure, arrange business meeting and how to get certain waivers or documents done.
So, you need to avoid going with these companies. You should avoid choosing cheap $49-99 incorporation and LLC business formation packages. Instead, you need to seek help from a company that can guide you throughout the process of setting up a company, organizing mechanism system and how to make it in profit. Hence, if you are looking for a company that can help you with complete customized corporate bylaws, corporate documents and other stuffs, going with MyCompanyWorks can be a right decision.
Unveil the Benefits of Startup Wizard
Since there are lots of companies that can help you getting a business registered or legally authorized, but you will always like to go with MyCompanyWorks . Actually, MyCompanyWorks is a better choice than all other usual service providers. The key reason behind its enormous credibility and authenticity is that it can help you unveiling the benefits of startup wizard.
With the help of startup wizard, you can easily go through a customized startup checklist to organize your business. You can get certain things done according to the specific type of your business. Professionals at MyCompanyWorks can help you operating agreements, issues tock and bylaws. Of course, if you choose a company that offers you such benefits, you will have to spend extra money on an attorney.
What Are the Innovative Features?
If you are confused about how MyCompanyWorks can help you forming a new US business from abroad, you need to look at nowhere else but its features. Let's check out stated below a few features :
You can enjoy free with every enterprise formation benefit.
It starts with by providing you a resale permit or business license.
Professionals at MyCompanyWorks will guide you about how to hold an organizational business meeting, operating agreements or adopting bylaws and issuing member certificates or stock.
By passing through each step, you will learn how to track your progress.
You will be sent automatic emails regarding rest of remaining steps.
If you want to get complete guideline printed, you can easily download a PDF file about how to start a business.
If you are going to start multiple companies, you can still find a customized startup wizard with each company.
How MyCompanyWorks Can Benefit You to form a US business from abroad?
You don't need to spend lots of time for learning how to go through company formation setup process. Instead, Startup Wizard of MyCompanyWorks can offer you everything from scratch to finish.
You will be given an easy-to-follow checklist. This way, you can save lots of time.
You can easily establish a company even without going through complicated legal terms and conditions.
Professionals at MyCompanyWorks also help their clients in understanding the legal aspects of starting a business.
With the help of Startup Wizard, you can easily help your friend in setting up a new company.
MyCompanyWorks provides round the clock customer support.
Additional Advantages of Choosing MyCompanyWorks form a US business from abroad
Apart from aforesaid benefits, you can also enjoy a few additional benefits of choosing MyCompanyWorks.
No Hidden Charges – One of the key reasons behind increasing popularity and demand of MyCompanyWorks is that it doesn't charge you hidden fees for its services.
Verified Credentials & Personal Service – Yes, you can enjoy personalized services and verified credentials.
Experience – Whether you are going to setup an incorporation or LLC, you should choose an experienced service provider. Professionals at MyCompanyWorks are highly experienced.
They Provide Services in 50 States & D.C. – The best part of going with this company is that you can easily avail services in around 50 states and D.C.
Get Free Handbooks – Yes, you can easily grab free handbooks with your every order.
Free Notifications and Alerts – MyCompanyWorks is known for providing free alerts as well as important notifications regarding new services, features and benefits.