[Solved]

How to embed tweets in my Shopify blog ?
Hi all,
I hope you're doing fine 😎  I would like to embed twitter feeds into my Plak theme blog pages (preferably in the sidebar), I know there is a code that I should past from twitter to my Shopify but i don't know where to put that code.
Anyone could tell me how to do that ? 🤗 
Thanks
Anastasia
Hi @anastasia
Katrine here from Plak Theme support.
In order to show your twitter feeds into your Plak Theme blog section (sidebar), please follow these steps after you have copied the code of your desired tweet.
From your Shopify dashboard, click Online store => Actions > Edit code
Open the file blogsidebar.liquid (this is the file which generates your blog side bar)
Paste your twitter code where you would like it to appear (in this example, i pasted it just before the newsletter feature)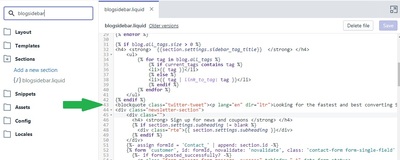 Here is how Plak tweet looks like in Plak theme blog sidebar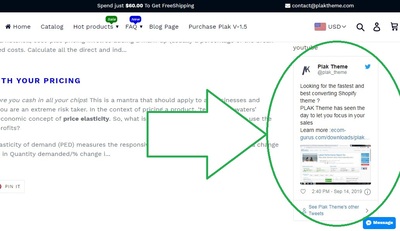 Kind regards,
Katrine| Plak theme support
 - Was my reply helpful? Click Like to let me know! 
 - Was your question answered? Mark it as a Solved Solution
Oh wow ! It works great, thank you so much Katrine 🙂
Should I use the same steps to show my Pinterest pins ?
Yes Anastasia, use the same strategy to show your Pinterest pins, and don't forget to duplicate your theme and make a backup in order to recover easily your past theme version if something goes wrong.
Kind regards,
Katrine 😀 
Thanks a lot, you're the best 😎